News
Just Released Version 2014 of QuickLog & QuickCross/Fence

We are pleased to announce v. 2014 which includes the following new features:

Globally Change Information in Multiple .BOR Files
Multiple Computer Installs
Export to AGS
Multi-Width Surface Casings
More Sample Box Fill Patterns
Custom Header Updates - Vertical Text, Filled Rectangles
click here for details...
New TABLET PC Version of QUICKLOG - How it Can Save You Time and Money:

1) Maximize your efficiency by using free time to get boring logs done while in the field - no need to spend days working on logs when you get back to the office.

2) Setup "PICK LISTS" of soil descriptions - choose them with a pen stylus. Makes data entry fast and STANDARDIZED.

3) View boring log diagrams, TO SCALE, in the field - helps you make better decisions on where to pull samples and set screens.

4) If you have used QuickLog, there is no learning curve - field and desktop versions are virtually identical.

5) The Tablet PC is fully ruggedized to withstand water, dust, and falls. It features GPS, camera, and can run other software related to drilling and sampling. If you don't own one, you can rent or purchase from us at a great discount!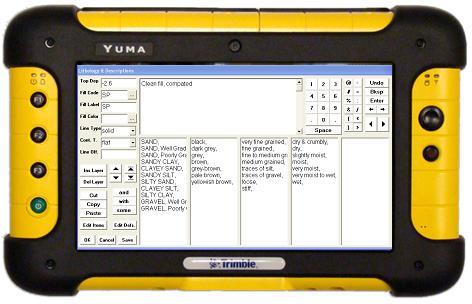 About M-Tech
M-Tech Software is owned and operated by Marc Gleason who first began creating borehole log and groundwater monitoring software in 1986 while working for an environmental consulting firm. At the time, it took the firm 4 hours to create a log using AutoCAD. Marc's first version of QuickLog cut the time to 20 minutes and enabled data entry staff and geologists to take over the task. QuickCross/Fence was soon added to save time in creating cross section and fence diagrams. Finally, Groundwater Assist and ChemGraph were developed to speed the production of groundwater monitoring reports.

Whatever the M-Tech product, the goal is always to help a user complete a task as fast as possible while maintaining high quality output and flexible formatting. Our software is also more user-friendly than our competitors' because it does NOT require database or graphics programming. Yet, its database and graphics features are every bit as powerful -- all the power without the headaches!

The first commercial versions of QuickLog, QuickCross/Fence, and ChemGraph were released in 1993. Since that time, the software has been constantly updated according to user feedback and changes in technology. Also, we are happy to provide custom programming if a firm needs a feature not found in the current version. Lastly, our technical support is second to none -- when you call, you will be able to talk directly to the developer.

Company Milestones:
1993: M-Tech releases a DOS Version of QuickLog - QuickCross/Fence.
1995: M-Tech releases a Windows Version of QuickLog - QuickCross/Fence becoming the first company to create a Windows interface for a borehole logging/cross section program. QuickLog quickly gains popularity in the industry.
2002: M-Tech enhances QuickLog's Windows interface further by giving it a Point and Click WYSIWYG style. QuickCross/Fence becomes the first (and only) program of its kind to offer DRAWING right on the screen.
2006: M-Tech offers PAY-AS-YOU-GO Licensing so that firms can use the software as much as they need and track use, for rebilling back to clients (see more details under "Pricing.")
2009: M-Tech adds a drawing macro language - makes it easy to precisely add objects to cross sections. M-Tech adds QuickLog PDA for entering log data in the field on a handheld computer.
2010: Field Version of QuickLog Optimized for Ruggedized Tablet PCs
2012: Project/Global Data Interface, Improved Import/Export
Our clients include a vast array of environmental/geotechnical firms, petroleum/mining firms, government institutions, and universities in nearly every country in the world. Please click here to view our client list.